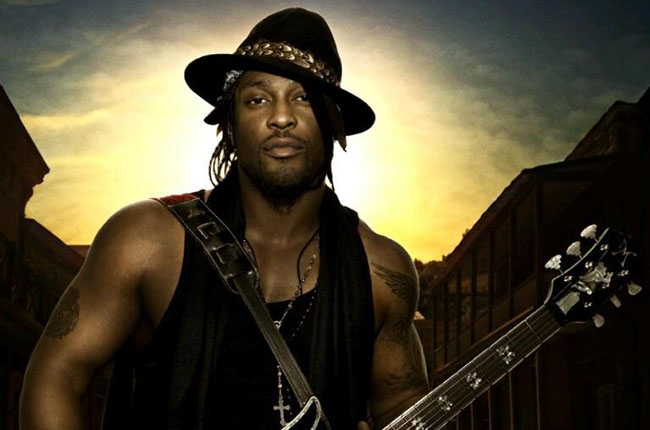 If Baby Jesus was a silky smooth R&B singer, and I have no reason to doubt that he was (the sermon on the mount was just a badass bass solo - it gets lost in translation) then surely D'Angelo is right on time with the Christmas release of his new album
Black Messiah
- his first in 14 YEARS. That's correct. Where has he been? What has he been doing? This intrepid reporter has done exhaustive research to come up with a year by year breakdown of his time in the wilderness. Ultimately, the where's and why's don't matter, we're just happy to have him back. Go spread some brown sugar on your day. Mmm... tasty.
2000-2001
D'Angelo releases his second album
Voodoo.
It is pure sex. Partners around the world watch the
Untitled
video and look at their significant others with contempt and disgust followed by a rousing grudge-rut fantasizing of the Chocolate Adonis. All is well. D'Angelo tours extensively, mostly with Sisqo. Sisqo dies in early 2001 in a tragic silver hair dye accident. He is memorialized in Daytona Beach during Spring Break with a 21 thong salute and a group outbreak of Chlamydia. D'Angelo insists they never met.
2001-2002
Erratic behaviour on tour. Record company demands he go back into the studio. D' tells them greatness can't be constrained by the needs of their fiscal quarter. They drink Matcha. It's all chill. D' discovers the Harry Potter books and is neither seen nor heard from for 5 months. He's finally spotted in an Arby's in August requesting that he be addressed as Neville Shinebottom. Arby's kid is fine with it.
2002-2003
Begins demos for a collaboration with Outkast. The project is scrapped when D' realizes these aren't the Australian steakhouse franchise guys. He really wanted free steaks. Andre 3000 tries to get the project back on track, going so far as to offer a 50/50 split on his 3000 so they can each have 1500. D' decides to take a job as a prep cook at Outback Steakhouse, perfects the art of the twice-baked potato.
2003-2004
Clay Aiken is a thing. D' plays Xbox for 3 months straight, still manages to demo 97 new songs, a full didgeridoo suite, to commemorate his time at Outback. The sessions are released on home-burned CD's, hidden at the bottom of customers' desert plates. 17 separate complaints to the manager.
2004-2005
Much of the year is spent recuperating in hospital when D' works out so hard that he gains a new ab, just below his ribcage on the left. Doctors are puzzled, 17 nurses forced to take sudden maternity leave.
2005-2006
George W. Bush continues to mock all reason and democracy in America. D'Angelo gets really into bowling. Record company is freaking out. D' tells them about a premonition he had where one day no one would buy compact discs anymore and music would lose most of its cultural capital. He invests all his money in a chain of bowling centres on the Gulf Coast called "D'Angelanes". Hurricane Katrina.
2006-2007
D' goes back out on tour, playing keyboards with Kenny Chesney. No one asks why. Kenny paid on time and always had good weed.
2007-2008
D' invents the iPhone. Weird, right?
2008-2009
Banking crisis! Despite all the bailouts, D' recoups none of the losses incurred by D'Angelanes. Sues Steve Jobs for stealing his phone idea but drops the suit when Prince, in turn, sues him for "biting his shit". Jobs invites them all over to his place for smoothies. They hash it out and write a wicked funky jam together. Jam is lost forever because Jobs recorded on the untested MP46 format which would only play back on first gen Apple devices and only then whenever the stock split.
2009-2010
Hey, Sparklehorse just came up on shuffle! Remember Sparklehorse? Sad. I bet D'Angelo liked Sparklehorse.
2010-2011
Canada wins Olympic gold on home ice! Also, D'Angelo.
2011-2012
Back in the studio with The Roots, Rick Rubin and the ghost of Teddy Pendergrass. Pendergrass' ghost is still confined to a wheelchair, a condition which leads to him pronouncing the afterlife to be "some straight-up bullshit". All present agree. They play Paul McCartney songs all night, it's pretty sweet. Teddy kills on
Let Me Roll It
.
2012-2013
Chris Brown wins R&B album of the year at the Grammys. Hell no. Hell... no. D' gets back to work.
2013-2014
Sessions in earnest for what will eventually become
Black Messiah
. Early album title considerations include:
Never Too Late, Hell No Chris Brown, Abbey Road, The Lizzy Caplan Experience, Brony, Shinebottom & Chesney's Greatest Hits, I'll Put It Out When I'm Good and Ready.
2014-2015
Yeah, it's out. It's rad. Chill out with your favourite lady or boy or ladyboy and get into it. Thanks, D'Angelo. It's been a weird year. This was a nice surprise. Baby Jesus brings the funk.