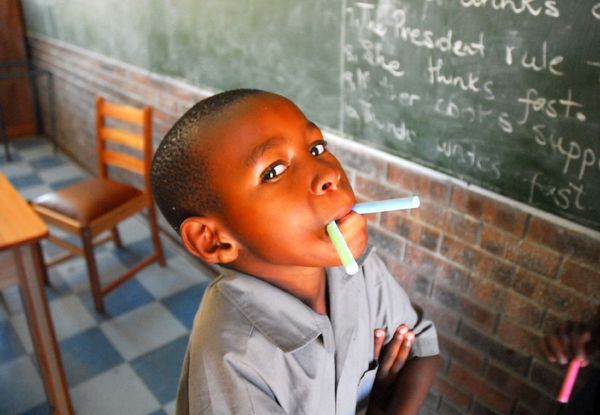 When you enter the CBC Searchlight contest, they send you a little "get-to-know-ya" questionnaire. It occurs to me that maybe some of you, our dedicated Blockheads, might not know these tidbits yourself. So study up, there will be a quiz later. No, not really, you just have to go vote. For us, preferably.

Here's the questionnaire:
Hello, CBC. How are you? This is Ross Smith on behalf of EBH. Thanks for having us on board for Searchlight. We hope your listeners' ears will be pleased. And now, we answer your burning questions.
1) Who are you? 
Why, Edmonton Block Heater, of course. We're a trio of gentlemen who have been playing together since 2001 and finally getting it right. We like catchy pop songs so we write and record those and hope that you find yourselves singing them to yourself in the shower or the elevator but never in the elevator shower where you must lather in silence, looking up at the ceiling. We love all kinds of music and so all kinds of music finds its way into our music. Music. Also, music.
- Tell us something about you that would surprise us!
Boy, I dunno. We're kind of a rock band full of soccer moms. 
We're often mistaken for a band based out of Edmonton instead of Vancouver but then that's a problem we brought on ourselves. The name actually is a song title from the book and film Hard Core Logo, both of which we enjoy very much. It was something I happened to be reading when I moved to Vancouver and we liked the name as a bridge from our past to our present and future. We were once profiled on CBC Radio 2 when our first album came out back in 2005/06 and we wreaked Google search havoc on their research. They claimed we had been playing since the 90's and were on the film's soundtrack. Since we weren't in studio, we were unable to correct them and we were probably to polite to have pointed it out at the time anyway. We were just happy to get a song played on the radio!
Paul Tansey (drummer, man of a thousand other instruments) and I (Ross Smith, bald man, purveyor of words and melodies) both grew up in St. Albert, AB (now in the running for this year's Hockeyville contest!) so people's assumptions about our residence aren't entirely unfounded. Hmmm, what else…? I used to do a lot of musical theatre as a kid… once had a Bay City Roller asks me for cocaine… Brendan Rideout (magistrate of the low end strings and extremely high-end vocal harmonies) has more basses than God himself and we all know how much god likes funk.
- What do you do when you're not playing music?
Brendan sells golden toilets at a fancy bathroom fixtures store and plays with many, many bands including Celtic rock favourites, The Town Pants. Paul works at SOCAN (oh, we WILL engage you in a vigorous debate about artists rights, remuneration and copyright!) and drives his kids places. I shill cable and listen to all of the complaints about everything and why it's my company's fault. I also write about hockey via a 
Winnipeg Jets blog
: an Oilers fan, living in Vancouver, writing about Winnipeg. My life is very geographically confused.
- When did you start performing - and what made you want to pursue it? 
Ross: St. Albert has a tremendous musical theatre program that set me onto the path of an artistic/empoverished life since the age of 12. As a young'un I've been onstage as everything from The Music Man to a synth pop singing MacBeth - yes, that's a real thing, it's called Nightshriek. Musical theatre just seemed more fun than getting yelled at by intense jocks during a soccer game. Eventually my love of music was too strong to resist so I picked up a guitar and decided to start making music of my own. It was often terrible. I think I'm slowly improving.
Paul: 
I've been at it since I was 16, starting in church basements, battle of the bands contests and school dances. As soon as I was able to play a basic 4/4 beat, I just assumed that I would be on stage. It's just what you do, isn't it?
Brendan:
For me it was a choice between music or taxidermy. I'm still on the fence about it.
2) What inspired the song you submitted to Searchlight?
Kiss Me Kate is a song about finally acknowledging that a relationship is on the skids. The title, though never explicitly mentioned in the song (which for all intents and purposes really ought to be called "Greener Eyes" but nooooo, we had to be obtuse!) is not actually just a reference to the old musical but to the name of a character on a short-lived Canadian TV series. The part was played by an actor I met once at a party and I was smitten instantly. Foolishly, I didn't pursue it and shortly thereafter started a new relationship that became difficult pretty quickly. Over the same time, the actor's show was being heavily promoted in Vancouver and I'd see her picture in magazines and bus shelter posters, like a ghost haunting me, reminding me of a path not taken that was easy to imagine as a better one. It's never that simple, of course, but when we're in a bad situation, we're at our most susceptible to a "grass is greener on the other side" fantasy, n'est ce pas?
Who's the actor? I dunno, CBC, sleuth it out. Between the lyrics and my story here, the mystery might be solvable! ;)
- Is there a surprising story behind how you recorded this track?
This might be only 
interesting to audio nerds but this was one of the first times that I realized Pro Tools could be a very creative compositional tool. My normal method of recording guitar solos is just to track improvisations over and over until I lock into something I like. This song never delivered a single pass that was compelling to me and so I started breaking it up into pieces and rearranging them on the computer screen like a puzzle. When I hit upon something that sounded both strange and alluring, I knew I was on the right track. I just had to make sure I could play it live - happily, the answer was "yes"! The experience made a persuasive argument for digital recording not just as convenience but as a real inspiration.
3) Please send the song lyrics.
Sure thing:
KISS ME KATE
I
made no promise of unconditional love
These days are taking their toll
Are we demanding more than what we did before
Crushing diamonds into coal
I'm not feeling, you're not feeling
Charitable anymore
Up the wall to the glass ceiling
Hearts beating under the floor
There is a fantasy that I let come to me
She is every second chance
Her hair is burgundy, her dress aquamarine
She keeps asking me to dance
Oh this feeling that I'm feeling
Spreads like a virulent strain
I keep playing, she keeps dealing
Endorphins to my brain
Greener eyes on the other side
Look at me
You've seen my lemon pout, you've seen my claws come out
You've kissed the scars on my face
When everything I do is repulsive to you
With whom am I replaced
This old feeling I know you're feeling
We've stopped trying to hide
Looking back loses its meaning
Looking back from the other side
Greener eyes on the side
Look at me
Greener eyes on the side
Look at me
Look at me
Look at me
Look at me
4) Did you participate in Searchlight last year? 
Nope.
5) How did you hear about Searchlight?
Twitter and a dear friend who insisted we give this a go.
6) Do you have any local shows coming up?
None at present since we're in the midst of preproduction for our new album but we'll let everyone know if something comes up!
7) How do you pronounce your name? If the pronunciation of your name isn't obvious, please clarify how it should be pronounced (a mispronounced name on radio is the equivalent to a typo in print!). It would be great if you could write it out phonetically and let us know what it rhymes with. 
It rhymes with Edmund's a Chalk Eater.
Thanks again for just being out there, CBC, you're pretty great. I hope this was all helpful. Enjoy the tunes!
Ross Smith - EBH